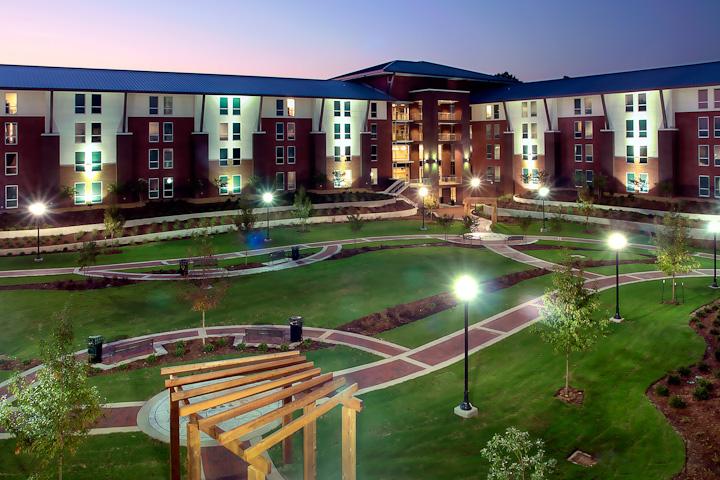 We're excited you'll be joining us for Orientation at Mississippi State!
On-campus overnight housing is available for students and family members in Mississippi State's residence halls. Be sure to note the dates you have chosen to attend Orientation — this information will be needed when registering for overnight housing accommodations.
Make sure that you are signing up for an Orientation session before requesting Orientation housing. This is a critical step in making sure that you're reserving space at Orientation in addition to your overnight staff. If you have questions about Orientation, please contact the Office of Admissions and Scholarships at 662-325-2224.
Orientation Housing
Incoming students and parents can enjoy the Bulldog life in Magnolia Hall, located on the south side of campus. Magnolia Hall is a 375-bed, state-of-the-art facility with fully- furnished, double occupancy rooms and a private bath in each room. This hall features wireless internet throughout the building and several lounge areas.
Each room includes the following:
Two extra-long twin beds with linens provided (please bring towels) 
**Please note that additional beds and/or mattresses will not be available in any room.
Each bed sleeps one.
Two dresser drawers and desks
One armoire
Private bathroom and shower
Access to free wireless internet
Family members are welcome to stay with their students! Keep in mind that our rooms have two extra-long twin beds. We cannot provide additional beds or bedding. 
Check-In and Check Out
All housing arrangements for students and family members should be made before arriving at Orientation. Checking into our orientation housing is ideally like checking into a hotel. A valid ID and confirmation of booking and payment are required. Also, feel free to bring personal items that will make your stay more comfortable.
Guests attending two-day orientation sessions may check-in starting at 11:00 AM the first day of their orientation session and must be checked out of the hall by 10:00 AM on the second orientation day.
Guests attending one day sessions may check-in starting at 2:00 PM the night before their orientation session and must be checked out of the hall by 10:00 AM the next day.
Pricing
On-campus housing cost: $70.00 per night plus tax ($74.90).
Please note that reservations can be transferred to other orientation dates but confirmed reservations are non-refundable.
Orientation Housing is not provided for summer school sessions.
Special Accommodations
If you require special accommodations, additional rooms, or an ADA accessible room, contact Guest and Conference Housing for additional information; 662-325-4140 or conference@saffairs.msstate.edu
For questions regarding Orientation Housing, please contact Guest and Conference Services at (662) 325-4140 or conference@saffairs.msstate.edu.
You must complete the Orientation Registration before reserving Orientation Housing. Registration for Orientation will go live on March 1, 2024, at 9 a.m. CT.
If you have registered for your Orientation Session, please visit http://www.my.housing.msstate.edu to register for Orientation Housing.
For questions regarding housing assignments or residence halls for the upcoming fall semester, please contact the Housing Assignments Office at (662) 325-3555 or housing@saffairs.msstate.edu.